Present
Past
Subjects
Projects
Misc

MARCH 2005
---
Small things writ large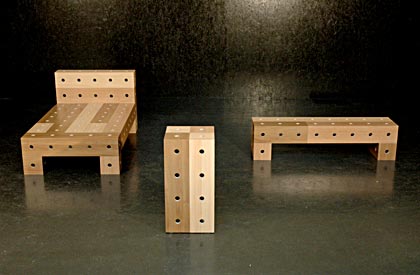 Toneelbeeld (in progress)
---
Enchantment
Q: Just what is it that makes this music so different, so appealing?
The New Age of the Countertenors
David Daniels and the young superstars of opera
Countertenor Revolution
Once heard, the unique, velvety sound of the countertenor voice cannot be forgotten
A: This has been quite a recent discovery. So far I've been listening to various countertenors singing Handel (Deborah, Rinaldo, Giulio Cesare) parts.
---
The Swan in my Kitchen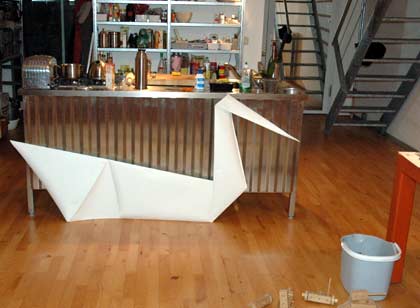 ---
The Brick Testament
The Reverend Brendan Powell Smith presents The Brick Testament.
The impressively maintained press page for the project.
The Kölner Stadt-Anzeiger article which first caught my attention. (No, I wasn't searching for Lego -- I'm not interested in Lego -- I was searching for "Garden of Eden" and "toy".)
---
Last night I dreamt that I was teaching a yoga class in New York City.
---
The Meccano Testament
Quote:
"At Gagosian Chelsea, in his first East Coast solo show since 1994, Burden presented all the works from the L.A. exhibition plus Tyne Bridge (2002), a 31-foot-long, structurally accurate scale replica of the 1928 green-painted bridge that spans the Tyne River in Gateshead, England. Commissioned by Gateshead's Baltic Centre for Contemporary Art for its inaugural exhibition and produced in an edition of two (whose components are stored in elaborate cabinets) plus one display piece, the work was presented at the Baltic Centre in a gallery overlooking the actual Tyne Bridge. Making its U.S. debut, the sculpture was accompanied in New York by two Tyne Bridge Kits (2003), the large wooden cabinets that constitute the edition. Each cabinet has numerous drawers filled with some 150,000 parts and the tools required to build Tyne Bridge, as well as instruction booklets and photos to aid in its assembly. Always the conceptualist, Burden regards each cabinet as a self-contained sculpture and suggests that its owner need not assemble the bridge itself. Since it took him and a crew of seven studio assistants about 5,000 hours to assemble the work on display, his suggestion is probably best taken."
Source: Art in America
Chris Burden's Tyne River Bridge at the Baltic Center
Chris Burden's Tyne Bridge Kits at Gagosian
Price tags:
Tyne Bridge $ 700,000
Tyne Bridge Kits $300,000 each
---
It's silly to think that things can come to an end. We speak of the end of the movie, the end of the meal, the end of the friendship or the end of the week but these moments are not really the end. There is no real end until the end of the story. And the story only ends when you and I end. When there can no longer be a reprise, an epilogue or a bonus. When there is no longer the possibility of another event which changes previous events, no possibility of a further memory, flashback or understanding. Up until this moment... there can be no real end.
---
The Ebay to Watch
Baazee.com is now officially Ebay.in. It will be interesting to see how this marketplace develops over the next year or two. Currently Bollywood costumes has my vote for best category.
---
Finished decor
Last night was the premiere of Brünnhilde 40+ at the Toneelschuur in Haarlem.
Death Wish
Wagner in a letter to Listz (following Schopenhauer's and Kant's metaphor of the sailor):
"When I think back on the storms that have buffeted my heart and on its convulsive efforts to cling to some hope in life - against my own better judgment -, indeed, now that these storms have swelled so often to the fury of a tempest, -, I have yet found a sedative which has finally helped me to sleep at night; it is the sincere and heartfelt yearning for death: total unconsciousness, complete annihilation, the end of all dreams - the only ultimate redemption ['Erlösung']" (letter 177).
Redemption Revalued in Tristan und Isolde: Schopenhauer, Wagner, Nietzsche
---
Various translations of Schopenhauer's essays online at the University of Adelaide.
---
Church and State Schizophrenia
Paul Berman (who has actually read much of Qutb's writing in translation) writes a very readable account of Sayyid Qutb and his influence on today's Islamists -- and sums up his essay as follows:
"It would be nice to think that, in the war against terror, our side, too, speaks of deep philosophical ideas -- it would be nice to think that someone is arguing with the terrorists and with the readers of Sayyid Qutb. But here I have my worries. The followers of Qutb speak, in their wild fashion, of enormous human problems, and they urge one another to death and to murder. But the enemies of these people speak of what? The political leaders speak of United Nations resolutions, of unilateralism, of multilateralism, of weapons inspectors, of coercion and noncoercion. This is no answer to the terrorists. The terrorists speak insanely of deep things. The antiterrorists had better speak sanely of equally deep things. Presidents will not do this. Presidents will dispatch armies, or decline to dispatch armies, for better and for worse.

"But who will speak of the sacred and the secular, of the physical world and the spiritual world? Who will defend liberal ideas against the enemies of liberal ideas? Who will defend liberal principles in spite of liberal society's every failure? President George W. Bush, in his speech to Congress a few days after the Sept. 11, 2001, attacks, announced that he was going to wage a war of ideas. He has done no such thing. He is not the man for that."
Suprisingly Google returns only 8 hits for Anarcho-Islam.
---
---
ALAMUT.COM is artist owned and operated.
Mail: current address.