DECEMBER 2002
---
Paul and his new Titanium Gigabook.
---
Crashing around in OS X
Of course it's going to take time and there's going to be issues. I'm migrating from a 233 mhz powerbook G3 with 160 mb RAM running OS 8.5 (1998 model, no firewire, no USB) to a 1 ghz powerbook G4 with a gigabyte of RAM running OS X (10.2.2).
Anyone out there want to give me a hand moving a Frontier 6.0 guest database to Radio?
---
Phew. This thing is lightning fast.
Thanks to Chimera 0.6 I'm finally able to log on to the GameNeverEnding. Stewart himself last night initiated me into the game's inner mysteries. They (Ludicorp) have been busy in Vancouver.
---
The first DVD watched on my new machine: Bergman's Winter Light. In his notes to the film, Philip Strick says that Bergman himself described the 'Faith' trilogy (Through a Glass Darkly, Winter Light, The Silence) as 'chamber plays'. Applying this term makes a great deal of sense. I love the 'the locked room' aspect and the minimalism of these three films.
---
Several uncanny synchronocities yesterday: the massive power failure which accompanied the email from Anne Nigten (where half of Rotterdam lost it's power for a couple of hours) and twice when fiction mirrored reality while watching Miike Takashi's Audition (phone rings in film and at the same moment on my desk, someone starts playing piano in the film and simultaneously next door). Even without the coincidences I found Audition an exceedingly frightening and disturbing film with its moments of obsession reminiscent of Kubrick's Lolita and its moments of vertigo and reality shift reminiscent of Lyne's Jacob's Ladder.
---
Three films which combine the use of black and white and color:
Andrei Tarkovsky's Stalker

Ingmar Bergman's From the Life of the Marionettes

Jean Luc Godard's 'Eloge de L'Amour' (In Praise of Love)
---
---
Cleaning up my hard disk I came across this image that Rogério created last year for a publication he and the rest of the Airplant crew prepared on hybridity. The image represents one of my favorite pieces: 'Good and Evil on the Long Voyage'.
---
Surprise of the month has to be Dziga Vertov's 1929 film Man with a Movie Camera. Absolutely stunning... Right up there with Patrick Bokanowski's L'Ange (especially when viewed with the Alloy Orchestra soundtrack).
See too: Vlada Petric, Constructivism in Film - A Cinematic Analysis: The Man with the Movie Camera.
---
Yes it's Sweet
Now playing (just in time for Christmas!): the new Sigur Ros.
Escapology update: Colditz Reality.
---
Christmas Scene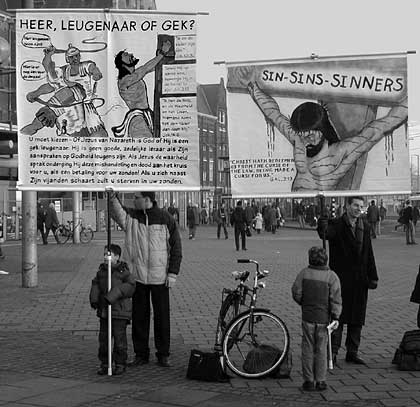 Centraal Station Amsterdam
While shopping this afternoon for Xmas presents in Amsterdam (note to myself: the Saturday afternoon before Xmas has to be the WORST possible day to try this) I snuck for 15 minutes into my favorite secondhand bookstore and picked up a copy of James Monaco's monograph on Alain Resnais. Flipping through it on the way home I was surprised to see that Resnais and Chris Marker collaborated on several projects before Resnais produced his first feature film (Hiroshima Mon Amour in 1959).
---
Christmas in Bensheim
Firsts...
First time eating German Christmas cookies.

First time seeing real candles burning in Christmas trees.

First time hearing owls outside the window.
---
In Advance of Time
"Now I see that when I was very young, eighteen, fifteen, I already had a face that foretold the one I acquired through drink in middle age. Drink accomplished what God did not. It also served to kill me; to kill. I acquired that drinker's face before I drank. Drink only confirmed it. The space for it existed in me. I knew it the same as other people, but, strangely, in advance. Just as the space existed in me for desire. At the age of fifteen I had the face of pleasure, and yet had no knowledge of pleasure. There was no mistaking that face. Even my mother must have seen it. My brothers did. That was how everything started for me--with that flagrant exhausted face, those rings around the eyes, in advance of time and experience."
(Retro-causality in Marguerite Duras' The Lover.)
---
---
ALAMUT.COM is artist owned and operated.
Mail: current address.