APRIL 2005
---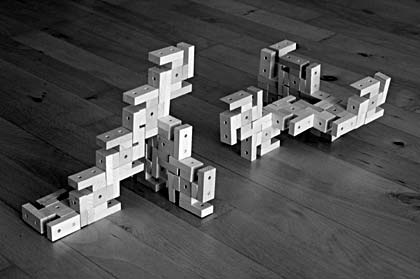 Study 3 (17 metablocks)
When There Is More Time
Thank you Brody Condon for pointing out Raoul Vaneigem's 1986 book Le Mouvement du libre-esprit -- published by Zone Books in 1994 as The Movement of the Free Spirit.
Not Bored: All the Things You Could Be Right Now if Raoul Vaneigem Were Your Father.
---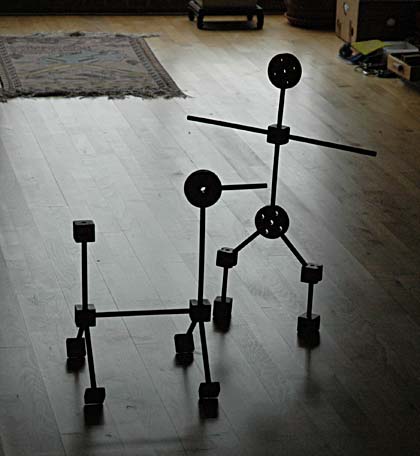 Study 4
---
A Season Long Waking Dream
N. and I are leaving for a few days in the Odenwald, site of her youth, parents and 'Siegfrieds Tod'. For the journey (and beyond) I've purchased a copy of Quicksilver, the first volume of Stephenson's copious (3,000 page) Baroque Cycle. To embark upon a potentially immersive experience in a period one finds fascinating via an author one admires (I loved The Diamond Age) is, to say the least, exciting.
What does it mean to 'yearn' for total immersion?
---
A Calvinist Defence of Anarcho-Capitalism
---
The Birth of a Pope I
From Homily of the Dean of the College of Cardinals, Joseph Cardinal Ratzinger, at the Mass for the Election of the Roman Pontiff:
"Let us dwell on only two points. The first is the journey towards "the maturity of Christ" as it is said in the Italian text, simplifying it a bit. More precisely, according to the Greek text, we should speak of the "measure of the fullness of Christ", to which we are called to reach in order to be true adults in the faith. We should not remain infants in faith, in a state of minority. And what does it mean to be an infant in faith? Saint Paul answers: it means "tossed by waves and swept along by every wind of teaching arising from human trickery" (Eph 4, 14). This description is very relevant today!
"How many winds of doctrine we have known in recent decades, how many ideological currents, how many ways of thinking... The small boat of thought of many Christians has often been tossed about by these waves - thrown from one extreme to the other: from Marxism to liberalism, even to libertinism; from collectivism to radical individualism; from atheism to a vague religious mysticism; from agnosticism to syncretism, and so forth. Every day new sects are created and what Saint Paul says about human trickery comes true, with cunning which tries to draw those into error (cf Eph 4, 14). Having a clear faith, based on the Creed of the Church, is often labeled today as a fundamentalism. Whereas, relativism, which is letting oneself be tossed and "swept along by every wind of teaching", looks like the only attitude (acceptable) to today's standards. We are moving towards a dictatorship of relativism which does not recognize anything as for certain and which has as its highest goal one's own ego and one's own desires."
(Believe or not this entry was written (but remained unpublished) before Ratzinger's election.)
---
Two Questions/Promises in the War Against Relativism
Is there a point -- and if yes, at what point will that be? -- that our creative anachronist, our contemporary dabbler in antique cultural logics (once accused of "combining from here and there the bearers of significance") will become totally immersed in a single logic, a single waking dream?

To Ratzinger: from where else but the hoards of contemporary relativists will the fundamental army recruit its new soldiers? (And has this ever been otherwise?)
I am for an art which is pluralistic but reflects a deep pluralism rather than a shallow one. I am for an art which is composed of diverse camps of fundamentalists rather than wishy-washy relativists (ie. for relativism but against relativists). Beauty must be committed -- or not at all!
---
From Deleuze and Guattari (via Alon Levin):
"A schizophrenic out for a walk is a better model than a neurotic lying on an analysts couch. A breath of fresh air, a relationship with the outside world."
From Philip K. Dick: Schizophrenia and the Book of Changes
"What distinguishes schizophrenic existence from that which the rest of us like to imagine we enjoy is the element of time. The schizophrenic is having it all now, whether he wants it or not; the whole can of film has descended on him, whereas we watch it progress frame by frame. So for him, causality does not exist. Instead, the acausal connective principle that Wolfgang Pauli called synchronicity is operating in all situations--not merely as only one factor at work, as with us. Like a person under LSD, the schizophrenic is engulfed in an endless now. It's not too much fun."
---
Two or Three Things I'm Dying to Tell You
Received Jalal's new book in the post today. Was pleased to see that for the cover he's used a portrait from the series that N., Persijn Broersen and I prepared on the occasion of his lecture at DasArts in 2001...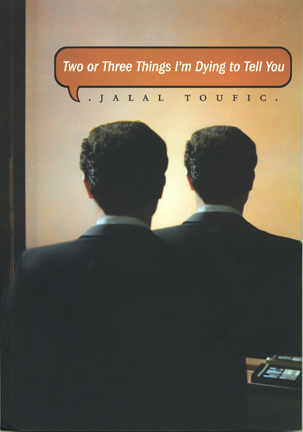 (Let me tell you: the night of Jalal's lecture was -- for me -- personally momentous.)
---
"And then what happened?" Narratology -- story telling -- requires causality and linear time. Acausal (or synchronistic) 'situations' contain no narrative. Narrative appears in the question.
---
---
ALAMUT.COM is artist owned and operated.
Mail: current address.