JANUARY 2005
---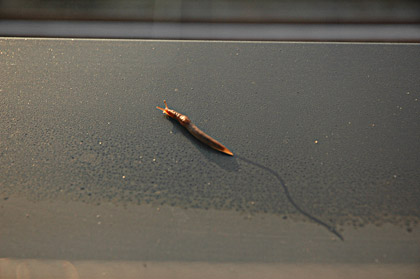 This morning. Outside the window. This year's totem beast.
Later, N. shows me how to "cast" molten lead into a bucket of water (bleigiessen) in order to divine this year's pleasure. Me (somewhat relunctantly): "But what about the fumes? Isn't this poisonous?"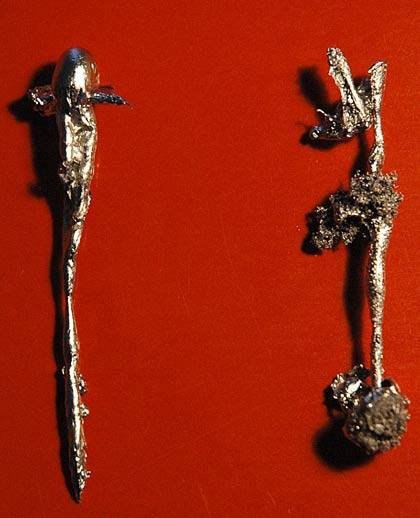 Left: N's form. Right: my form.
---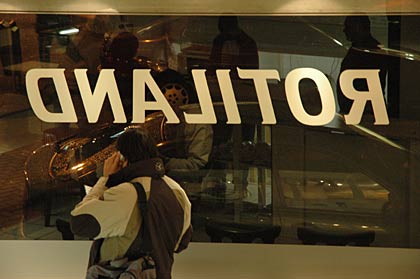 5/1/05- Rotiland, Rotterdam
---
N. left early this morning for another period of work in Hamburg. She and her colleague's theater piece will premiere there on the 16th of February.
Absence makes (always already) crazy: when I kissed her at the station I would never have dreamed that by the end of the day I'd have bought my first sewing machine (a 25 year old Bernina 830).
---
Stayed up late watching Bresson's 'Les Dames du Bois de Boulogne'. I just love Bresson and think that Maria Casarès (aka Death in Cocteau's Orphée) makes a very fine witch.
Bresson related: PAL Speedup and Bresson's 'A Man Escaped'
---
Divas
Many early photos of many classic sopranos.
Swans and Geese: Wagner's Wildfowl.
---
11/1/05- Out of focus
---
A Good Education
"A liturgy of opposites has developed in the theory of education: creativity versus routine, spontaneity versus rules, imagination versus rote-learning, innovation versus conformity. Rousseau´s myth of the noble savage, good by nature and corrupted by society, lives on; and in the face of all the evidence to the contrary, educationists go on telling us that children learn not by conforming to some external standard, but by "releasing their inner potential" and expressing their creative skills. Hence rote learning, facts and traditional routines are dismissed as irrelevant."
From Roger Scruton's essay: What Mozart had and Tracey hasn't
One of the benefits of being a contemporary artist -- and having a bad education -- is that you get to keep studying for the rest of your life.
Honestly. For the rest of your life.
After all it is one thing to sit -- as we do -- on the shoulders of giants and another thing to stand.
Learning and trying to stand take time (and give time).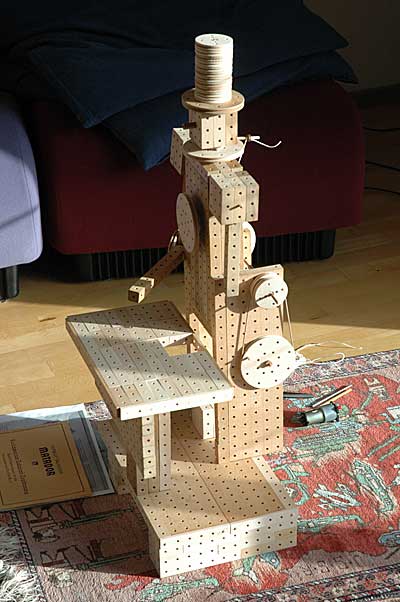 13.1.05
---
My how quickly the days go by.
I've been busy learning how to use my 'new' Bernina and continuing my research into 19th and early 20th construction sets. Also listening to some wonderful examples of soprano coloratura.
The Legacy of the Diva site (for an exhaustive analysis of arias written specifically for coloratura sopranos click on 'Arias for Sopranos').
I'll spare you the cool sewing links.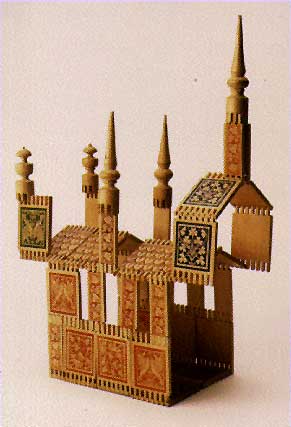 'Fortifications for Fairyland Set' (ca. 1870's)
---
In the Woods

Having a library of unread books and going on a trip means being able to choose. Heading out the door this morning I chose John Gardner's Grendel to throw in my bag and later, on the train, upon reaching the sentence half-way through page 10...

"I toy with shouting some tidbit more--some terrifying unthinkable threat, some blackly fuliginous riddling hex--but my heart's not in it."

I realise I've made a good choice.
Metelen, half-way between Münster and Gronau.
---
Perfect for a Sunday morning: Telemann's 'Der Tag des Gerichts'
(especially the following sequence of 'songs')
Nun ist das Heil und die Kraft
Ein ew'ger Palm umschlingt mein Haar
Heilig ist unser Gott!
Heil! Wenn um des Erwürgten willen
Das Lamm, das erwürget ist
Ich bin erwacht nach Gottes Bilde
---
In the Woods II
From Grendel (pp. 114-115):
SCENE: Hrothulf in the Woods.
The nut tree, wide above my head,
stretching its cool black limbs to take
the sun, sends darkness down my chest.
Its dappled, highcrown roadways make
safe homes for birds; quick squirrels run
the veins of its treasure-giving hand;
but the ground below is dead.
Strange providence! Shall I call the tree
tyrannical, since where it stands
nothing survives but itself and its high-
borne guests? Condemn it because it sends
down stifling darkness, sucks the life
from grass, and whitens the sapling leaf
for trifling, fluttering friends?
The law of the world is a winter law,
and casual. I too can be grim:
snatch my daylight by violent will
and be glorified for the deed, like him;
drain my soil of Considerations,
grip my desires like underground stones,
let old things sicken and fail.
She touches my hair and smiles, kind,
trusting the rhetoric of love: Give
and get. But the thought flits through my mind,
There have got to be stabler things than love.
The blurred tree towering overhead
consumes the sun; the ground is dead;
I gasp for rain and wind.
---
"In Beowulf the focus is always on heroic action and beastly malfeasance; in Grendel the focus is on philosophical ways of living in the world. Grendel dies in each work, but the meaning of his death is radically different."
The Twelve Chapters of Grendel
---
Update: I was commissioned several months ago to do the set design for a cryptic (at least to me!) theater piece which may or may not be about Nibelungen. While doing some research into Golliwogs I came accross this image. Apart from the spookiness of the Golliwog's life-like attitude I'm impressed by the scale relationships between the dolls, the children and the adults.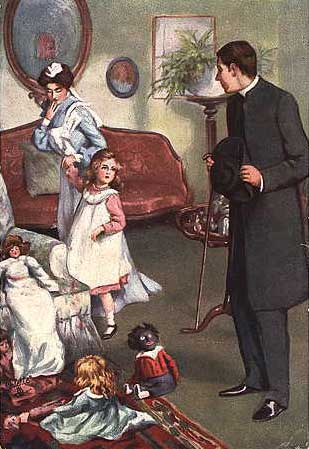 'Want of Confidence': a cartoon from 'Punch'
---
---
ALAMUT.COM is artist owned and operated.
Mail: current address.