FEBRUARY 2003
---
After reading the reviews I'm eager to watch the films of Béla Tarr...
Werckmeister Harmonies (2001)

Satantango (1994)
---
(Köln)
Arrived here last night with N. She's off to Hamburg for the day -- while I've spent most of the day settling into my room at the St. Pantaleon cloister. Both the room and the view are excellent. Together the cloister and the church encircle a small churchyard which I look out across. Even though it's in the heart of Köln it's very quiet and I think this will be a good place to work (I hope to teach myself a little bit of Final Cut Pro editing while I'm here).
---
(Köln)
The future of (German) board games. Marcel confirms what I've long expected: the fusion of German-style board games with embedded chip technology to handle the math and bookkeeping. Such a hybrid -- designed by Reiner Knizia and published by Ravensburger -- will be available this fall. The game's theme: the story of King Arthur.
---
(Köln)
Concerning my research question in regard to proper names and identity, Marcus Martins writes:
Maybe you have thought of this before, but what about Ralph Ellison's 'The Invisible Man'? -- the main character has no name, which has many implications for what happens in the book...
and Jack Rusher writes:
Dear Alamut,

Bhikku -- clever fellow -- has already mentioned modern physics with regard to causality. I would further suggest a quick reading of the fabulous QED: The Strange Theory of Light and Matter, by Richard Feynman. It contains an excellent discussion of entwined photon pairs that communicate over enormous distances in ways that cannot be accounted for within human scale notions of time, space, cause and effect.

Momento redux: the short story, written simultaneously by the brother of the film's director and published in Esquire, contained a slightly different vision of inverse causality; it should be considered in concert with the film.

These two quotes, "The thinker makes a great mistake when he asks after cause and effect. They both together make up the indivisible phenomena" and "Nature has neither kernel nor shell; she is everything at once", are both Goethe, but could just as easily be Buddhist in origin. They somehow feel apropos in this context.

Some quick thoughts about identity and names: Cyrano de Bergerac via his vox proxy, Buchner's Woyzeck contends with the Drum Major, the Captain, the Doctor -- none of them with proper names, Viola/Cesario in Twelfth Night and, lastly, Rosencranz and Guildenstern, who are written such that the viewer cannot tell which is which in either Shakespeare's Hamlet or Stoppard's Rosencranz and Guildenstern are Dead.

None of these possess the sociological aspect you seek, but I hope they prove interesting or useful nonetheless.

Cheers,

Jack Rusher
---
(Köln)
Cloistered, to enter a cloister; to spend time offline.
I find I'm getting a lot done staying here. No Google distractions (though I admit I'm not entirely cloistered... I am sneaking out at night to sleep with N. -- her house is a 5 minute walk away -- and sneaking back in the morning before the nuns are up).
---
(Köln)
Watched part of Fassbinder's Der Amerikanische Soldat (1970) and was extremely impressed. There is obviously more to Fassbinder than Querelle (and it's good for my German to watch German films).
Michael Wohl's interview with Walter Murch...
M. W. What do you like most about editing and sound design?
W. M. At a very early age I fell in love with a tape recorder. What I loved about it (and this is true about film editing now) is that you could instantly capture a fragment of reality, and then you could manipulate that fragment and juxtapose it with other fragments in unpredicatible ways. That was intoxicating to me in the early 1950s, and it still is in the early 21st century.
... reminds me of Warhol's love affair with his tape recorder (Alamut entry -- scroll down to 'self conscious journalism') and Burrough's description of tape cut-ups in The Job.
---
(Köln)
Similar but not identical. In one version Harker leaves his beloved Mina in the care of her companion Lucy. In another version Harker leaves his beloved Lucy in the care of her companion Mina (Herzog's Nosferatu).
---
(Köln)
Finished the rough cut of the footage I shot on the 10th of June last year in Buenos Aires. This is my first Final Cut Pro project. While I'm not so sure about the results I do know that I haven't been so deeply engrossed by an activity in a very long time.
N. and I went to see a Studio Ghibli's Whisper of the Heart tonight at the 'Trickfilm Festival' at Museum Ludwig. State of the art animation but content-wise quite a cultural gut kick... Whisper of the Heart is a teenage love story featuring a heroine who pens alternate lyrics for John Denver's 'Country Roads' while simultaneously struggling against (and eventually submiting to) what to our minds seem rather dogmatic social norms.
---
Kenneth Anger
I watched a number of short films from Kenneth Anger this evening (Scorpio Rising, Invocation of my Demon Brother, and Lucifer Rising). I must say I'd never seen any of them before and they made quite the impression on me, especially 'Invocation of my Demon Brother'. Half-way through 'Invocation' I phoned Rogério to say that until now I'd never imagined it possible to make an evil film, a film that was inherently evil rather than simply showing evil. Rogério told me that he'd felt something similar once during a Coil concert.
Excellent Senses of Cinema page on Kenneth Anger.
Excellent Anger interview.
---
Cold again (but sunny). There is ice on the surface of the harbour.
This page of music links points to a number of ethnomusicologist Robert Gottlieb's 1971 recordings of master tabla players in India (mp3 format).
---
Could Have Been Anywhere
Looking forward to watching Walden... a film diary of the years 1964-1968... not for Nico and the Velvets... but for Jonas Mekas. Interesting? We'll see. Here's the table of contents.
Yesterday's Light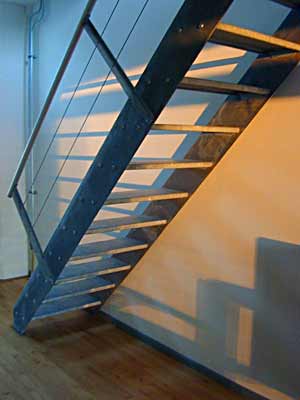 Rotterdam, 17 February 2003.
---
Wo ist Holsterwaal?
I
It is easy to spend hours searching for something that will lead nowhere. Easy hours spent easily searching are easy hours spent easily escaping... (What are easy hours but escapes? What is escaping but reading, watching films, day dreaming, searching online for that missing piece of information -- hoping, hoping that finding it will solve everything?)
II
Weine's irises in Caligari may have once been conventional, been part of the grammar of the silent film, but today they are not. They are not smooth but rough edged. The rough edges are divided into two shapes: roughly circular and roughly diamond shaped. These shapes iris-in and iris-out not to the geometric center of the frame but to faces and details inhabiting the frame's edges. Sometimes the shapes iris in to one corner of the frame while simultaneously irising out to another.
The transitions aren't smooth either. Very often the movement stops along the way and holds your attention for a while.
Today, sitting before the wide screen in the land of the all seeing eye, there is definitely an eroticism to be found in restricting (frustrating?) the gaze to a ragged pinhole (pinhole pornography?).
III
A transcript of the script of Das Cabinet Des Dr Caligari.
Nancy Thuleen: Expression and Character in the Movements of Cesare.
Film restoration note: an in depth explanation of the frame line seen in Image Entertainment's video transfer to DVD.
The more recent Kino International DVD seems to be better.
---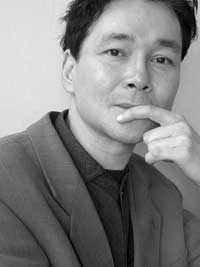 Maurice Nio, 19 February 2003.
Maurice took me to lunch at Oliva on the Witte de Withstraat yesterday. Good food and good conversation. Over lunch I noted his comments concerning a short story by J. G. Ballard ('The Thousand of Dreams of Stellavista') and the films of Douglas Sirk.
Who or What Killed Maya Deren?
Meanwhile I've been assembling a DVD containing 'Meshes of the Afternoon' by Maya Deren/Alexander Hammid and 'Scorpio Rising' and 'Invocation of My Demon Brother' by Kenneth Anger. It's incredible to rewatch the labyrinthine Meshes. I've watched it half a dozen times over the years and each viewing reveals more. One wonders about the minimal number of times a person has to see this film in order to realise what's happening. For most people this has got to be more than once -- which raises the point that some films absolutely require repeated viewing in order to be followed. That some films might be constructed for this purpose. That for some films repetition might not be an option but a necessity.
Upon repeated viewing of 'Meshes of the Afternoon' one realises the deep indebtedness of David Lynch to Deren/Hammid (and that's not saying anything of Lynch's similar indebtedness to the films (especially Scorpio Rising) of Kenneth Anger). Interestingly Filmaker Magazine's page on Meshes also mentions a number of music video "homages":
Relatively recent MTV Meshes of the Afternoon homages (or are they thefts?) include Katherine Dieckmann's moody video for Kristen Hersh's 'Your Ghost' and the sexy Milla video for 'Gentleman Who Fell.'
In the Mirror of Maya Deren a recent (2001) documentary about Maya Deren by Martina Kudlacek.
A good Maya Deren film bibliography (from the same site).
Lastly some links to Alamut entries for the 25th and 26th of October 2001when we watched 'Meshes of the Afternoon' during our stay at a psychiatric hospital in Castricum and I uncannily lost and found my keys.
---
Demian writes in response to my comment on the evilness of 'Invocation of My Demon Brother':
...but evil is just good turned upside down.

BTW: if you want to watch an amazing Anger film, watch Puce Moment - it's on the Mystic Fire release with Rabbit's Moon and a couple other ones - though Puce Moment is the only really good one. One of the most beautiful, if absolutely void of substance, films I've ever seen.

Regarding your question about names and identity - these don't have much (or anything) to do with names, but Bergman's 'Persona' and Robert Altman's Three Women (which is basically Persona redux and slightly complexified) both very much address the issue of personal identity.

Zap - You're Pregnant - That's Witchcraft!
---
The Phenomenological Novelist
The more Robbe-Grillet I read the more I like. Last month I read La Maison de Rendez-vous and I finished Jealousy (La Jalousie) on the train home from Köln yesterday afternoon. Next up is his Recollections of the Golden Triangle.
I would love to see some of his films. Why aren't they available?
---
What I like most about Robbe-Grillet's writing is its recurrence, its sustained inquiry, its repeated "going over" of an event or a location.
What I like most about Fassbinder is that he repeatedly filmed his own death (as an actor in his films).
(It's an important day today...)
---
Perfected by Death
Heard tonight from Thom Puckey that Maurice Blanchot, author of Death Sentence, When the Time Comes and The Instant of My Death, has died. The Maurice Blanchot Resource page confirms that he passed away on the 20th of February.
(Testamentum omne morte consummatur)
Jouke writes that Blanchot was 95. Could such a long life be the effect of "dying before you die"?
Quote from Kevin Fitzgerald's Proem: Who is Blanchot?
"One notable exception would be Blanchot's recent work, The Instant of My Death. This work deals with a man who, after being sentenced to die before a Nazi firing squad for resistance activity, is suddenly granted a reprieve and release. Although it is written in the third person, it is purported that Blanchot experienced a nearly identical series of (non)events. Some now speculate in an etiologic manner that trauma related from this near-death experience caused his obsession with death, or more specifically, with the impossibility of death."
---
---
ALAMUT.COM is artist owned and operated.
Mail: current address.