FEBRUARY 2002
---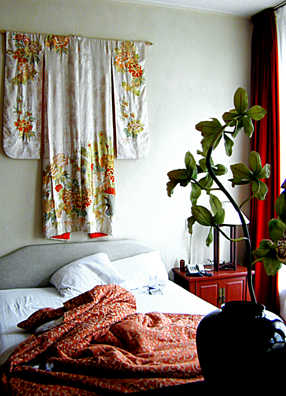 (Untitled)
---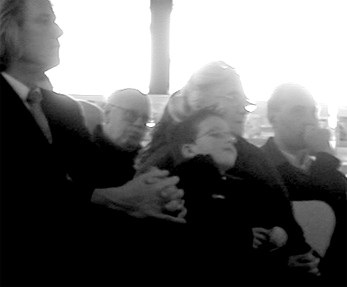 (Untitled)
---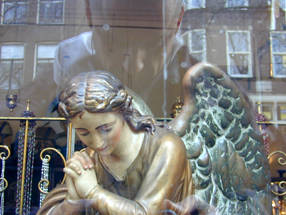 (Untitled)
---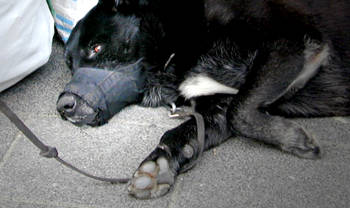 (Untitled)
(Coincidentally, the moment this picture (of a homeless person's dog) was taken synched perfectly with the moment another dog started to whine musically in my ears via my walkman... The effect was so utterly uncanny it gave me the shivers. And then, about an hour later, while listening to the same disc on the train, at precisely the moment where the dog whines, I felt shivers again when I happened to glance out the window and see two dogs standing behind a chain link fence...)
---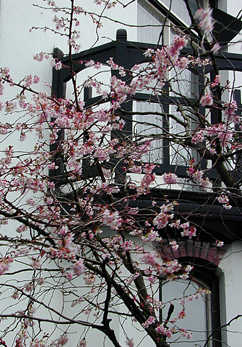 (Untitled)
Sometimes the net behaves just like a small town. Googling to re-find a smart article on journaling that I came across the other day I entered the search terms: 'blanchot', 'kafka', 'journal', 'diary'. Impossible Text, the article I was searching for, came up first in the returned list. Second up was Calamondin's Someday This Will Be a List of Every Book I have Ever Read.
---
Ammunition for the Deconstruction of Time
Basic toolkit:
In [Dogen's fascicle] 'Kuge' he [Dogen] says: "Time has such colors as blue, yellow, red, and white. Spring draws in flowers and flowers draw in spring."
There is absolutely no difference between time and such colors as blue, yellow, red, and white. The time we call spring blossoms directly as an existence called flowers. The flowers in turn express the time called spring. This is not existence within time; existence itself is time. Dogen underlines this in Uji with such statements as, "Time is existence, and existence is time" and "You must see all things in this world as time."
(Masunaga Reiho)
---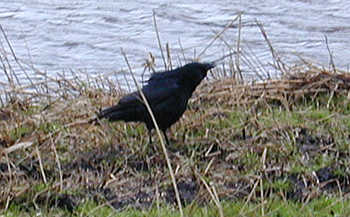 (Untitled)
---
(Untitled)
(...but if there was a title for it, it would be something like: 'Kralingen Duplex' or 'Two Houses Which I Pass On My Way to the Gym.')
---
Who knows why we do the things we do? Tom McCarthy writes:
Dear Paul,
Pre-cog reading going off the counter recently. I tell a friend how great Donald Campbell is, she sits down in a cafe two hours later in front of a newspaper photo of him crashing his boat in 1967; another friend dreams about giving a hat away, then I call and ask her to borrow a hat for a fancy dress party; now I've been chasing down Eliot's reference to Tristan and Isolde in The Waste Land and click open Alamut and find that image! Keep up the good work.
Say hi to Rob La Frenais,
Tom x
---
Rob La Frenais has come to Rotterdam to speak to me about this and other projects.
---
Once And For All
Is it realistic to consider anything (any phenomena, act, decision etc.) as (occuring) just once and for all? Even death... How many times will the same things die on us? (Billions?) How many times will we put the same things to 'sleep'? (Billions?) How many times will we die? (Billions?) Edit Kaldor lent me her copy of Cesare Pavese's retelling of the Greek myths, Dialogues with Leucò, for Pavese's Orpheus tale:
ORPHEUS: ... I was thinking that someday I would have to go back down, that what has been will be again. I was thinking of my life with her, how it had been before; someday it would have to finish again. What has been will be. I was thinking of that cold, of what emptiness I had passed through and which she was carrying with her in her bones, her marrow, her blood. Was it worth the anguish of coming back to life? I was thinking of this, when I saw the first glimmer of the light. Then I said, "Let's finish it once and for all." And I turned around. Eurydice disappeared like a snuffed candle. All I heard was a faint squeal, like a mouse skittering to its hole.
(Cesare Pavese)
Orpheus (in his apparent fatalism) seems to choose the easy way out. He looks back at Eurydice, not out of love, NOT to be sure that she is there, but simply 'to be sure', i.e. he's unable to live with uncertainty (his own uncertainty, her uncertainty) so to be sure he takes action and 'finishes it'; he ends or kills possibility. (This is sad.) In order to be sure his story turns into a story that is doomed to repeat itself.
---
(h. b., sunshine)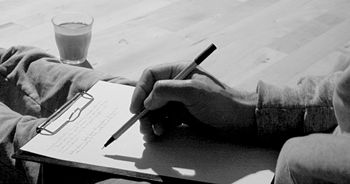 (Untitled)
---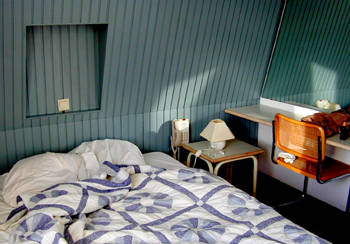 (Untitled)
---
Via the inimitable Metascene:
The Religious Experience of Philip K. Dick by R. Crumb.
Yes... well... regarding the contagious nature of epiphanies... ("Here's something that will fuck up your head. Pass it on.") Who else has experienced an 'Am-I-Actually-Dead-Moment?' while reading Philip K. Dick? (Mine occured more than 20 years ago in the back of a North Vancouver bus. I remember looking up from the page and becoming totally confused. I was reading Ubik at the time.)
---
VPRO television is planning a program on Near Death Experiences for their science series NoorderLicht. Film maker Robert Oey and researcher Marie Lou Schoenmakers visited yesterday to talk about my two ketamine excursions (A Thousand Deaths: Sortie 1 and 2). It was an interesting discussion. They are specifically interested in recent findings published in The Lancet and elsewhere. More on this later.
W. S. Merwin's poem: For the Anniversary of My Death.
("Every year without knowing it I have passed the day...")
---
Listening to Hilmar Örn Hilmarsson's soundtrack for the film 'Angels of the Universe'.
Heard that Gabrielle Marks' father has passed away.
---
(Flea mind: thoughts hopping all over the place.)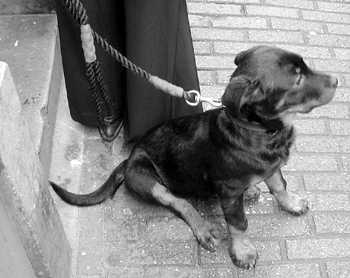 (Untitled)
Randomly working my way through PKD's Collected Short Stories vol. 4 (which I bought last summer for his rather uninspiring 'Orpheus with Clay Feet')... I'm considerably impressed by the story 'War Games' (especially the passage describing the testing of a 'cowboy suit' that sounds an awful lot like a Salvia divinorum episode ).
Also: the story 'What The Dead Men Say' (1964) is clearly the prototype for Ubik's (1969) notion of half-lives.
---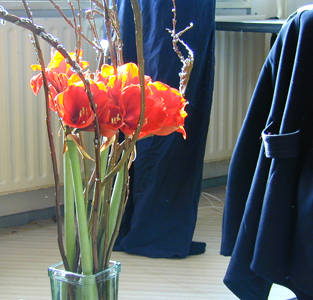 (Untitled)
---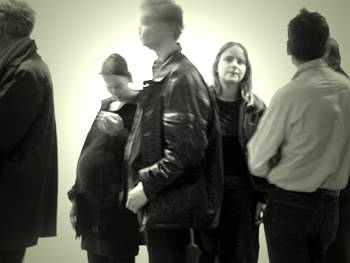 (Untitled)
Attended the service for Gabrielle's father this afternoon.
---
Rec'vd
Hi,
I read your entry about Ben d'Armagnac, and understand that you can't find the monograph about him.
I am his son and I know where you can find one. Try:
Good luck,
Pierre d'Armagnac
---
Explanation
Lira-san (on the phone): "Being in love increases one's market value."
---
Letting the hunger flow backwards...
Hans Bryssinck came to visit. While I prepared lunch he scootered around the studio. We spoke about Mexico and the Day of the Dead and the various opportunities and questions ahead of each of us. Later we sat by the window and watched the clouds float by.
Went to the library and borrowed Leslie Dick's 'The Skull of Charlotte Corday and Other Stories' and Nabokov's 'Speak, Memory'.
Nabokov's description of his earliest memories exploring "primordial caves" (crawling behind the couch, building a cave of linen in his crib) and the glorious sensuousness of this reminds me of the pleasure one feels in recapturing or recollecting (as an 'adult') such moments or, vicariously, witnessing such moments in others.
Something like this...
Yes...
Moments like this are never lost. They are always available, always there (if you can just stop long enough to allow them to be again).
Fell asleep and dreamt about pirate communities.
---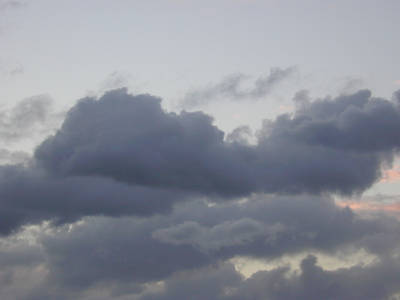 (Untitled)
---
At the outset of his Angels: a Modern Myth, Michel Serres writes:
"Angels as messengers.
"The angels of the monotheist tradition (Jewish, Christian and Muslim) are invisible -- but are capable of becoming visible. They appear and then disappear. It is said that they move through space at the speed of their own thoughts..."
This is interesting. The phrase "move through space at the speed of their own thoughts" reminds me of a scene from 'A Thousand Deaths: Sortie One' where I (lying on the floor recovering) talk with Louwrien Wijers about a similar sort of experience.
Edit visits and speaks with me about writer/director Peter Halász.
---
Because art equals uncertainty: the practice of the former helps one accept and manage the 'truth' of the latter.
---
A long day on the train. An enormous wind storm. I came home to find my new spruce tree blown right over.
The face and body of Jente's son Yulong when I held my walkman's earbuds to his ears: body totally stiffened, head thrown back, mouth open, eyes very, very wide. Quite remarkable. Next time I'm in Groningen I'm going to try to take a picture of this.
On the train home I started one of the books I picked up this afternoon, A Voice Through a Cloud, Denton Welch's unfinished autobiographical novel documenting the grave 'singularity' which was his accident. As I was reading I suddenly remembered another train trip spent reading Denton Welch. It turns out that was in October 1999. Odd. For little did I know it at the time but back then I was rapidly approaching an untoward threshold (albeit not at all as grave) of my own.
'Who says time heals all wounds?'
(It so happened that we watched Chris Marker's Sans Soleil during our last day together at DasArts. Unfortunately the sound quality of the tape was absolutely abysmal... so bad it was impossible to understand the voiceover text. At the time I was of course disappointed that the block had to come to an end this way and touched that almost everyone had the courtesy to sit through the film anyway. Later however, reminded of the last lines to Eliot's The Hollow Men:
This is the way the world ends
Not with a bang but with a whimper.
I imagined that such an anti-climax to a block about 'death' may have been quite fitting...)
---
A: The names of that old woman and her daughter in Flannery O'Connor's short story 'The Life You Save May Be Your Own'...
B: Ah yes... 'Lucynell Crater and Lucynell Crater'.
A: Surely there is a relation to Ralph Eugene Meatyard's 'Lucybelle Crater Series'?
B: There is.
---
---
ALAMUT.COM is artist owned and operated.
Mail: current address.