MAY 2000
---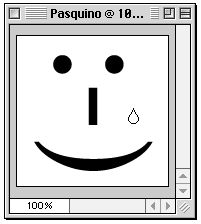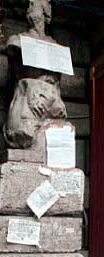 Pasquinde, n. Lampoon, satire, originally one fixed to public place. [from Italian pasquinata (Pasquino, statute at Rome on which Latin verses were annually posted.)]
More: Irresistable Decay: 'Pasquino' Sculpture in Rome.
Anti-Serious States
This month is dedicated to 'lightening up,' to humor in all its forms -- black, white, slap-stick, sardonic -- to the divine comedy and the infinite jest. To therapy, to irony, to ROTFLOL.
With this in mind I'm looking for book, video and other media suggestions. Send them to me and I'll try them (and map them for us.) Especially welcome are pointers to outsider humor, 'anthropological' humor, (historical) obscurities and other curiosities and marginalia.
I haven't read any funny books in years. The last two (mainstream) books that I can remember chuckling over were: Tom Wolfe's The Bonfire of the Vanities and Martin Amis's Money: A Suicide Note. Admittedly both were pretty dark.
I suppose you can tell a lot about someone by what they find funny. And certainly a sense of humor would be subject to change over time and changing circumstances. Has anyone thought of creating a psychological profile by testing a subjects humor? Has anyone monitored such a profile over time?
A laugh is the wisest, easiest answer to all that's queer.
-- HERMAN MELVILLE, Moby Dick.
---
I dreamt this morning that I was living in Toronto. That Rotterdam had suddenly turned into Toronto. And that I was trying to sell my house to a woman who stopped to ask me for directions to McGill University and then started to give me a neck massage.
A human being should beware how he laughs, for then he shows all his faults.
-- EMERSON, Journals.
Or did old Emerson mean, 'beware of how he dreams'? (for I dreamt of her again last night...)
Searching online for humorous book suggestions I stumbled across this interesting list. The compiler (one Jeremy) suggests contemporary titles by Nick Hornby (High Fidelity and About a Boy), David Sedaris (Naked), Richard Russo (The Risk Pool) and Armistead Maupin (Maybe the Moon: A Novel). Jeez, I'm so out of touch that I've never heard of any of them.
And at the risk of appearing more morbid than I am -- I must confess that I'm intrigued by Jeremy's recommendations (and the Amazon reviews) of Blackburn: A Novel and One Day Closer to Death: Eight Stabs at Immortality, both books by Bradley Denton.
Any of you read any of these?
Two books and a cartoon.
More data points for my own humor profile. I remember laughing out loud a lot when I read J. P. Donleavy's The Beastly Beatitudes of Balthazar B somewhere in London, sometime in the mid-70's. More recently (about 4 years ago) I was quite amused by Stephen Bury's Interface. As for cartoons, the one that really cracked me up (it was in the 80's) was of a cruise ship steaming along a tropical coastline. (Did I see it in one of Matt Groening's 'Life in Hell' books?) If my memory serves me well, the caption went like this:
"DUE TO A GROSS NAVIGATIONAL ERROR THE LOVE BOAT STEAMS MERRILY INTO THE STRAIT OF HORMUZ."
"At the 1994 annual awards dinner given by the American Association for Forensic Science, AAFS President Don Harper Mills astounded his audience in San Diego with the legal complications of a bizzare death.
"Here is the story:
"On 23 March 1994, the medical examiner viewed the body of Ronald Opus and concluded that he died from a shotgun wound of the head. The decedent had jumped from the top of a ten-story building intending to commit suicide (he left a note indicating his dispondency). As he fell past the ninth floor, his life was interrupted by a shotgun blast through a window, which killed him instantly. Neither the shooter not the decedent was aware that a safety net had been erected at the eighth floor level to protect some window washers and that Opus would not have been able to complete his suicide anyway because of this."
More details: The Strange Death of Ronald Opus.
---
Special Entry

Canny, adj. Shrewd, worldly-wise; natural, safe to meddle with.
Uncanny, adj. Not canny; unsafe; strange; weird. Suggesting the operation of supernatural influences.
Notice: Yesterday I had one of the most uncanny experiences of my life. And it involved this weblog.
Here's what happened: Yesterday I researched and wrote up the day's entry during the morning and finished it just after noon. While 'researching' I found the 'forensic humor' item at searches.org (there it caught my eye as an 'Odd Tale of Forensic Science' half way down a page of links to scientific humor) and because it made me laugh and it fit my train of thought concerning 'morbidity' I decided to include it. It was strange though, for I hesitated about including it for quite a while. Adding it to the tail end of the day's entry without commentary the way I did -- struck me somehow as 'out of Alamut character.' But in the end -- something -- won out over my doubt and it got added and uploaded.
And then I rushed out the door to catch a film called Magnolia...
Have you seen Magnolia yet?
At the start of the movie you see a film sequence of a suicidal man who jumps off a building -- and is killed by a shot gun blast as he falls past a window -- and then watch as his body is caught by a safety net that has been set up to protect window washers...
I swear to God that this was precisely the 'forensic humor' item that I had hesitated an hour earlier about publishing. If you believe this (and why shouldn't you?) you can imagine how loudly my head began to fugue as I sat there in the cinema and watched the whole sequence unfold. What were the chances of this happening? Why was it happening to me? The fact that the film was about coincidence and samsara (endless cycles of pain) just made the whole thing that much more poignant. I was paying attention and I got zapped.
I think this line from the film best summarizes the entire uncanny affair:
"We may be through with the past. But the past ain't through with us."
Yes sir and touché.
(P.S. Last month I made a couple of notes (10.04 and 12.04) about Jung's notion of synchronicity as an acausal connecting principle. At the moment I don't believe that anything happens 'acausally' or supernaturally. Everything has its cause. It's just that the cause may not be so apparent. Is this karma?)
---
Blast From the Past
Apocalypse (memory). Listening to Godspeed You Black Emperor!, some parts of which do definitely evoke the KLF's Chill Out, a CD which I'm sure I'll never, ever, forget. 'Chill Out' embedded itself in my cranium while in Islamabad, the soundtrack for our jeep excursions outside of the compound during the summer of 1992. Those crazy, laid back strains floating above the air conditioning -- you could not imagine a sweeter (or for that matter more decadent or anachronistic) music to accompany the stark images of that very abject and feudal world.
This is not to say that 'Godspeed You Black Emperor!' is not itself sad and beautiful, but for me at least, it comes a decade too late.
Cryo-Humor

Detail from this cartoon by Matt Groening. 1988.
Cryo-humor 'cracks' me up. It really does.
Here's another good one...
"A friendly doctor holds up a pamphlet so that his new patient can see it and says: "Perhaps you would like to read this informative booklet,
"SO - YOU'VE JUST WOKE UP FROM CRYONIC SUSPENSION AND NOW YOU'RE A DISEMBODIED HEAD IN A JAR.'"
from this Doctor Fun cartoon by David Farley.
Deadly Serious
Cryonet (A list of online cryonic resources and service providers).
"Cryonic suspension is an experimental procedure whereby patients who no longer can be kept alive with today's medical abilities are preserved at low temperature for treatment in the future."
Stephen Harris, The Society for the Recovery of Persons Apparently Dead (published in The Skeptic, Summer 1992).
My motto has been for years: Take me away from all this death.
More Book Suggestions
So far my plea for a list of your favorite humorous books (or films or other media) has brought these titles to my attention:
And I'm very greatful to Teike Asselburgs for sending me the titles of several of her favorite comicbooks (sadly, a medium which I know nothing about) namely the work of Chris Ware ('Jimmy Corrigan, the Smartest Kid on Earth', 'Quimby the Mouse') and Shane Simmons ('Longshot Comics, The long and unlearned life of Roland Gethers').
So educate me... Kristen Brennan reviews her favorite comicbooks.
Absolut Hotsy-Totsy (In (Guarded) Praise of Irony):
" 'The world is a comedy to those who think; a tragedy to those who feel'; and irony's all that's been left to the softhearted analytical human being..."
"I also admit that at first (or at disgusted and exhausted) glance, irony seems utterly antithetical to art ("art" being best described as "No, I meant to do that"). The trick is to stand firmly behind your transparently hollow words and (except of course when evading legal action) cheerfully admit to fully believing each and every empty idiocy you've recorded..."
"For those who have been made self-conscious of hubris in the mere act of expression, irony is pert near unavoidable..."
---
We woke up, and fell a little further down...
-- Godspeed You Black Emperor!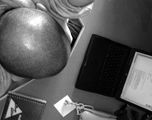 Still life with flash.
The Silence of the Lambs
Being silent is being able to watch yourself.
Needs, moods.
While others shout, "Stay there dammit! And don't you move! Not one inch!"
It's being able to say, "I ain't doing nothing..."
Related Alamut content (February 2000):
Who's a Misogynist Then?
I feel I'm being surrounded by anti-female spirits. And like Indians 'circling the wagons' (or Yuletide 'visions of sugar plums'?), the spirits seem to be closing in. This is dreadful. I don't want to succumb to this. I like women and believe that they inform me much better than men do.
It began, innocently enough, the other day at the library, when I borrowed two books, which, upon closer inspection, turned out to be about dwarf women -- Armistead Maupin's 'Maybe the Moon' and Katherine Dunn's 'Geek Love.'
Then I saw Tom Cruise's performance in Magnolia. What a shock that was! Have you seen this film?
Right after the movie I read my first S. J. Perelman story, 'Beat Me, Post-Impressionist Daddy,' a hilarious account of the Polynesian correspondence of Paul Gaugin. Really, I burst out laughing (a couple of times) while reading the following lines waiting for the tram home:
"... The instant we were alone the pretty trickster revealed her design. "I'm a strange little beast!" she cried. "Beat me 'til your arm aches!" Me, a family man. Figurez-vous. Marcus, what could I do? I bounced her around a bit, knocked out several of her teeth, and invited her to withdraw, as I had to complete a gouache by five o'clock. Dame!--the next thing I knew, Miss Goody Two-shoes ahd sealed the door, swallowed the key [clef], and I was it..."
At this point I decided to return to the library and take out Patricia Highsmith's 'Little Tales of Misogyny.' These are stories that I had read long ago, but forgotten. I lay in bed last night and read them all again.
I wonder. Perhaps these anti-female spirits (and their creators) are simply 'regular' misanthropists out joking around. On a temporary lark. Probably everything will revert back to normal soon. At least I certainly hope so.
Pinstruck: Do voodoo with a virtual cloth doll. (via Calamondin).
---
Drinking too much milk.
Errata
So... the cartoon in question wasn't a 'Life in Hell' after all. It was a Gary Larson. Thanks to the scanning skills of my old pal Ewan, here's the actual image:
[Image removed by order of Mr. Larson's law firm]
Gary Larson. 1988. Caption: "Through a gross navigational error, the Love Boat steams into the Strait of Hormuz." from 'The Night of the Crash Test Dummies,' Collection #9.
The Dalai Lama on AI
Buddhist Reincarnation and AI, fragment of a published discussion between Varela et al and the Dalai Lama. (Found at the pixel.txt weblog.)
This is serious:
"DALAI LAMA: Yes, that's right. [DALAI LAMA laughs.] There is a possibility that a scientist who is very much involved his whole life [with computers], then the next life... [he would be reborn in a computer], same process! [Laughter.] Then this machine which is half-human and half-machine has been reincarnated."
This is not serious:
My Mother the Car (televison series, 1965).
Teach Your Children Well
Teaching children how to think (U.K. Times).
This could make you depressed:
"The bad news is that unless you take advantage of Piaget's critical windows, your ability to engage in higher-order thinking is irretrievably lost. After the age of 19, the agility of your intellect goes into inexorable decline. "The most important thing is to train the mind to process information and tackle concepts while it can," says Anne Robertson, the CASE co-ordinator for Hammersmith and Fulham education authority. "You can continue to acquire knowledge, but unless you have developed higher-order thinking skills, it will not be so much use."
---
Zimmer Frei
From Julian Dibbel (author of the 1993 article that rocked our world, 'A Rape in Cyberspace or how an Evil Clown, a Haitian Trickster Spirit, Two Wizards, and a Cast of Dozens Turned a Database Into a Society') comes the story of Robot Wisdom's Jorn Barger in 'Portrait of the Blogger as a Young Man' (published in Feed, via Geegaw).
The passage under deliberation:
"The genealogy of Web logs points not to the world of letters but to the early history of museums -- to the 'cabinet of wonders,' or Wunderkammer, that marked the scientific landscape of Renaissance modernity: a random collection of strange, compelling objects, typically compiled and owned by a learned, well-off gentleman. A set of ostrich feathers, a few rare shells, a South Pacific coral carving, a mummified mermaid -- the Wunderkammer mingled fact and legend promiscuously, reflecting European civilization's dazed and wondering attempts to assimilate the glut of physical data that science and exploration were then unleashing.
"Just so, the Web log reflects our own attempts to assimilate the glut of immaterial data loosed upon us by the 'discovery' of the networked world."
Dibbel's weblog-Wunderkammer tie-in not only makes sense but illuminates brightly many of the hidden patterns and processes that underlie our current situation. With this single link the question, 'Why are we doing this?' bursts into a hundred case histories and half a dozen (or more) theories of the collector and her collection. The weblog becomes the Wunderkammer, the freak show, the Vernunfft-Kammer (the room of Reason), the museum, the theatrum mundi (the World Theatre), the map, the database. The weblogger becomes the connoiseur-collector, the hunter-gatherer, the seeker after knowledge, the treasure hunter, the Preta or 'hungry ghost,' the lover, the magpie, the bower bird, the classifier - taxonomist - lexicographer.
But as soon as her affair becomes public:
"Every other author may aspire to praise; the lexicographer can only hope to escape reproach; and even this negative recompense has been yet granted to very few."
-- Samuel Johnson
The weblogger can (and will) be psychoanalysed just as, in the past, the collector has been psychoanalysed (see Robert Burton, The Anatomy of Melancholy, 1621). Her collection or weblog will be alternately praised, vilified, and deconstructed. Her typologie(s) will be examined and themselves classified (or typed). Information will be understood (the 'difference that makes a difference' -- Bateson) and distinctions will be drawn.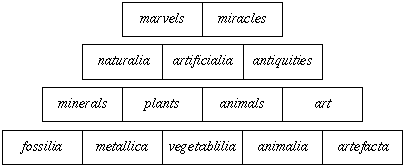 Progress or the history of Wunderkammer classification.
Under public scrutiny ('The nation is not something alien to me, rather a part of myself that returns to me in the nature of others' -- Otto Bauer) and self awareness ('I cherish my hesitation about what to publish and what not' -- Kleerebezem) the way of the weblogger would appear to be the way from the innocent and individualistic neurotic to the clown with the ironical stance.
But what do we loose 'en route'? Dibbel concludes:
"The passage from Wunderkammer to museum may have been a triumph for Western science, but it was a mixed bag for the Western soul. Wonder isn't easily replaced once mastery disperses it, and we may sorely miss our wonder at the Web if and when the wonder goes. Better we should savor it now -- and what better form to savor it in than in its purest distillation on the Web, the blog?"
---
Samsara Until You Drop Baby
The world is full of selfish replicators. As a matter of fact, it probably consists of nothing but selfish replicators. No more, no less.
"Strong ones, tall ones, short ones, brown ones,
black ones, round ones, big ones, crazy ones..."
-- 'Spill the Wine' (covered by Eric Burdon, 1970).
Yes, it is raining DNA and we're surrounded. Parasitism is the status quo around here. Or as Daniel Dennett says, 'A scholar is just a library's way of making another library.'
Scary thought huh?
Read, if you will, Susan Blackmore (author of 'The Meme Machine'): Waking From the Meme Dream (paper presented at 'The Psychology of Awakening: International Conference on Buddhism, Science and Psychotherapy,' 1996.)
---
This Heat
Got up around 6. It looked like it was going to be hot again so I opened up all my sliding glass doors, made some strong coffee and hot milk and then sat down and went crazy ordering books from Amazon UK. Oh how I love to go shopping bright and early...
Yesterday evening was equally wonderful. I was in Amsterdam for the final exam of a Sandberg student and while there visited the friendly offices of Mount.NL -- where I was given tea and soup and infected with introduced to Manila. The upshot? I spent most of today scratching the damned thing.
Out damned spot... ('Edit This Page' indeed.)
---
Unseasonably hot weather.
9 Nerds
The Media-GN class of '99 promises to re-open their 9nerds.com website tonight at precisely one minute before midnight (23:59 +0200) with a live feed from New York, Amsterdam and Groningen.
---
Which self?
Audio Diet
At the gym I've been listening to the Torque drum and bass compilation ('kei en keihard' on my discman). Dark and mindless, it's the perfect fit for all my workout anger (real audio samples: one and two). On the way home, the anger temporarily subdued, I've been playing another track, very haunting, called 'The Dusk' from DJ Food's 'A Recipe For Disaster.' This begins with a man's voice (speaking with a rather stern french accent):
Fantasy... with order
Freedom... with order
You can do anything you like... hmm...
Fantasy as much as you like...
But with order...
Enclave Exquis
Elsewhere I've been playing around with Manila (and reliving past periods of obsession with other community systems such as Swikis and Moos...) It makes you wonder: 'Just What Is It That Makes Today's Learning Communities So Different, So Appealing?' Everyone it seems wants an Enclave Exquis (or two).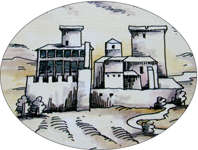 ---
Mental Hygiene
Two good cases here. It's funny how people tend to perceive examples of good mental hygiene as jokes...
'Jean-Paul Sartre is sitting in a coffee shop, revising his draft of Being and Nothingness. He says to the waitress, "I'd like a cup of coffee, please, with no milk." The waitress replies, "I'm sorry, sir, but we're out of milk. How about one with no cream?"'
'An engineer, an experimental physicist, a theoretical physicist, and a philosopher were hiking through the hills of Scotland. Cresting the top of one hill, they see, on top of the next, a black sheep. The engineer says: "What do you know, the sheep in Scotland are black." "Well, *some* of the sheep in Scotland are black," replies the experimental physicist. The theoretical physicist considers this for a moment and says, "Well, at least one of the sheep in Scotland is black." "Well," the philosopher responds, "on one side, anyway."'
---
Riding around my studio on my new 'urban assault scooter,' eating ma huang and listening to Fiona Apple's 'When the Pawn.'
My Urban Assault Scooter
It was late Thursday when I finally got back from Amsterdam and the One Minute Awards but I wasn't tired and the weather was fine, so I decided to walk home from the station rather than use a cab.
The route took me past the window of a skateboard store where a couple of Micro Skate Scooters had been put on display. This was a very clever move on the store's part, for yesterday I was back again, standing in front of their window. And before I had a chance to think about what I was doing or cry, 'Jenny Holzer,' I'd walked in and bought one.
I'm a sucker for toys like this.
Honestly though. It's really fun to ride. And practical in the city. And it looks cool.
It also folds up really small.
Never mind that it is a rage. And that in Japan they are being sold at the rate 50,000 a week.
I like it.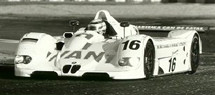 Jenny Holzer. BMW V12 LMR painted with 'Protect Me From What I Want.' LeMans 1999.
My Ma Huang
And no... The ma huang is not entirely responsible for all of this excess energy. But it is helping...*grin.* Energy enough to attack the millions of pieces of paper on my desk, the unopened envelopes on my table and the unlistened to messages on my answering machine. After months of neglect, kick starting my working life seems a Himalayan task. I could face the mountain today for a few of hours... and it felt good. Maybe a turnaround?
I even began to make a list of stuff that I had to to do.
I am especially gladdened by this because I am a list maker. I've always made lists. The fact that I haven't been able to of late was really getting me worried. (List making impotence?)
A couple of weeks ago I threw in the towel, completely confused, by the first of John Oldham's Personality Self Portrait tests (found via the PTypes weblog and page). I just didn't know how to answer the questions. As a matter of fact, I gave up on the second one (of 104)...
(Where Y = Yes, I agree. The entire statement is completely true for me. M = Maybe I agree. The statement is sometimes or somewhat true for me. N = No, I don't agree. The statement is completely false for me.)
So things are looking up.
---
Windy and raining.
Ascetically Humorous
Ray Davis has published a new essay at the Hotsy Totsy Club -- 'Laura True-Teller and other Fairy Tales' -- in which he rather artfully maintains that there is nothing more truthful than a good lie.
And, thanks to Ray, I've just read two lovely (and very short) stories from the pen of his subject, Laura Riding Jackson: Privateness and Mademoise Comet.
"We, then, having complete power, removed all the amusements that did not amuse us. We were then at least not hopelessly amused. We inculcated in ourselves an amusability not qualified by standards developed from amusements that failed to amuse. Our standards, that is, were impossibly high.
"And yet we were not hopeless. We were ascetically humourous, in fact."
Who amongst us does not dream of 'an amusability not qualified by standards developed from amusements that failed to amuse?'
---
Concordance
Not inclined to dilly-dally when it comes to using search engines, we prefer Google to All-The-Web simply because Google returns a concordance of our search terms and all-the-web only the text at the top of the page. So you can imagine our pleasure at the discovery of PicoSearch, a hosted search engine that returns a (short) concordance specifically compiled for our Alamut searches.
To Repeat or Not to Repeat
Recurrence (cycles) in literary hypertext and life.
TO REPEAT:

"Notice the cycle near the writing space named 'Hospital'; readers may leave the hospital, but they often return. (This echoes the experience of one of the characters in this story, a cancer patient.)"

"... Each departure from the hospital leads to a new path; the reader's past choices influence what may happen later in the reading. The recurrence of the hospital, like a a song's refrain, creates a framework that makes the changes more meaningful."

For a discussion of 'Cycles, Joyce's Cycle, Douglas's Cycle, Web Rings and Contours' see The Hypertext Cycle part of the Patterns of Hypertext pages by Mark Bernstein.

Also by Bernstein: Patterns, Narrative and Baseball

NOT TO REPEAT:

"The Connection Project uses javascript to let Web authors make link behavior depend on what the reader has already seen, a technique many experienced hypertext writers find indispensable."

(This link took me a little while to re-find, I thought I'd seen it somewhere on Eastgate's Website, but I was wrong, it was at Hypertext Kitchen's excellent Hypertext News.)
Looking at the above material and considering the experience of recurrence in daily life (samsara), I've been thinking about the difference between a cycle (recurrence in two dimensions) and a spiral (recurrence in two dimensions and change in the third)...
And suddenly the maxim, "Le plus ça change, le plus c'est la même chose," (the more things change the more they stay the same) -- which has never made much sense to me before -- starts to make sense. 'Spiral-wise,' the further one travelled along the vector of change, the easier it would be to recognize cyclical patterns (especially with cycles of a longer duration).
---
The Garden
There was trouble taking place.
Trouble taking place.
There inside the garden.
(P. J. Harvey, 'The Garden.' From the CD, 'Is This Desire?')
Zen
From the don't talk about it, do it, department.
In the Zen garden:--
"The world, and all its phenomena, are represented with only sand and rocks."
An excellent first lesson in Zen @ do-not-zzz.com (courtesy Subterranean Notes).
Gethsamane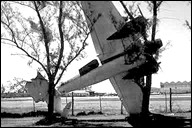 Gethsamane: Site of the Agony of Our Lord Jesus Christ (a Franciscan cyberspot).
Nuclear Garden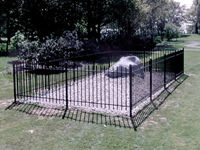 Paul Perry. 1998. Steel fence, gravel, stone, sub-critical nuclear reactor (incomplete).
---
It was raining. He woke up, glanced at his clock and did a quick calculation to see whether or not he'd had enough sleep. If I'm to die today he thought, at least I should be well rested for it.
Guru Road
Of all the 'visionary environments' and landscapes that have been catalogued and that I've never witnessed in person, I swear that this one's gotta be the best because it appears, at least to me, to be one of the least baroque and overwrought (in picture and description). Less a place than a path, it's a mumbling, mile-made monologue, a meander of maxims, packing, as it mosies leisurely along, its message in the very minimum of material.
This is no country artwork, but neither is it some subversive vision of a 'Better Homes and Gardens' home or garden. It is no crazed bower bird territory. No claustrophobic Nightmare on Elm Street. No 'doorgedraaid' magically armed castle.
It's about space man. Space and time and laughs. Lots and lots of laughs.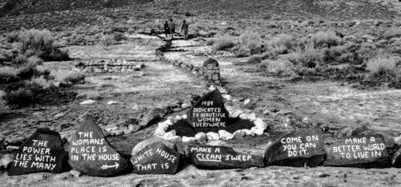 | | | | | | |
| --- | --- | --- | --- | --- | --- |
| The Power Lies With The Many. | The Women's Place Is In The House. | The White House That Is. | Make A Clean Sweep. | Come On You Can Do It. | Make A Better World To Live In. |
Guru Road a.k.a. Dooby Lane an 'outsider' environment near Gerlach Nevada constructed by late DeWayne Williams.
---
Affective Computing
Sorry, sorry, sorry...
Really computer. Instead of a message popping up saying, "You have new mail," I need a message that will pop up and say, "You owe people mail pal," or even better, "No new mail for you Jack until you take care of what you've got sitting in your IN box."
Two Musicals
From Cortes Island B. C., Ian le Cheminant (to whom I owe at least one mail) sends me notice of a new independent film:
"The lads from Nashville have been on island for a media colloquium and they brought along the director of the new feature film Existo, fresh from screenings in Los Angeles and San Francisco and on its way to New York (May 24th). It has been winning awards left and right. They also provided a 36" gas plasma screen and ran the thing on friday night. It represents the convergence of Artaud, Monty Python, Right Wing Fundamentalist Tele-Evangelism, and many other competing genres from the apocalyptic battleground of life at the turn-of-the-century in the deep American South. Its a musical. The Off-Broadway version will soon be coming down the tracks. This will be a cult classic. You just have to laugh, even if it is just from deep sickness and malaise d'esprit. Then there's the pogo-stick. It makes your urban mini-scooter look like an archaic throw-back. Wait till they sell 50,000 of these a week in Japan. (New site due shortly with ability to buy the thing for your studio. The film that is, not the pogo stick...)"
So here it is, existo.com. While the demanding viewers of the Internet Movie Database don't rate it very highly (32 votes, 3.8 out of 10 stars) it certainly does sound like good, clean 'independent-art' fun.
Elsewhere, in Cannes, Lars von Trier won the Golden Palm for another musical (this one with a famous Icelandic pop star in the lead role), 'Dancer in the Dark.'
---
Ways of Knowing
Have you ever noticed how the ability to be articulate about a particular practice says nothing about whether or not 'the articulate one' can actually practice? And that, in most cases, the gifted pundit is NOT a gifted practitioner?
And have you ever wondered why this is so?
Being John Malkovich
Searching for a connection between the book I'm currently reading (Guy Claxton, Hare Brain, Tortoise Mind) and the bicameral hypothesis of Julian Jaynes, I stumbled across this article which outlines the 'time delay' experiments of Benjamin Libet:
"The brain begins the process of moving before the person even knows about it. It was shown conclusively that the readiness potentials in their brains occurred before they felt the desire to move by somewhere between one to four tenths of a second..."
"A spontaneous act therefore begins before we are aware we have decided to act. The decision then is often not up our conscious selves. Rather we watch a part of our minds begin actions on their own authority and we can sometimes veto the orders before they make it to the muscles."
Elsewhere...
... and not (by too many degrees) disconnected to the above, an article on 'Clean Language Therapy' and another on the 'Nupedia,' a new open content encyclopedia, marked up in XML.
---
Burning a little piece of asafoetida, I listen to a short track of Cat Power.
Types of Learning
* Preliminary list:
Simple Association.

Trial and Error.

Imitation.

Consumption.
* In terms of detail, but assumed to be completely comprehensive in terms of scope.
---
The world is continuously under construction. Nothing is ever finished.
Varieties of Religious Experience Techno
"Warehouse. Terrorcore. Rotterdam. Jump-Up. Intelligent."
Gregory Bateson defined this as, "The difference that makes a difference." We define this as 61 varieties of techno.
Learning How to Learn
Explorations in Learning & Instruction: The Theory Into Practice Database.
"Theory into Practice is a tool intended to make learning and instructional theory more accessible to educators. The database contains brief summaries of 50 major theories of learning and instruction. These theories can also be accessed by learning domains and concepts."
---
Home Movies
Saw Vito Acconci's 'Home Movies' (1973) this evening. Thirty odd minutes of Acconci showing slides of his performance pieces, occasionally interrupting his 'official discourse' to whisper off camera to his ex-girlfriend (who is obviously not present), You could tell them what this piece is really about... and then proceeding to explain all of his work of this period (maybe 20 pieces) within the context of the end of their relationship.
Strange. Powerful. Scary. Cathartic.
Also saw Kim-Trang's 'Ocularis: Eye Surrogates' and Tracey Emin's 'Cunt Vernacular' and 'Why I Never Became a Dancer.' These and other tapes were part of the video program of 'Public Possessions and Private Obsessions' symposium organized by De Geuzen in Cafe de Unie.
For these I'm glad I went.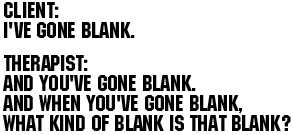 An example of the therapeutic use of 'clean language.'
---
In his new essay, 'Hypertext as Subversive,' David Kolb (author of 'Socrates in the Labyrinth') critiques the web's one-way, one-stop, one-size-fits-all link. The following quote is called 'New Gestures' -- located somewhere in the hypertext's dark middle...
"Imagine a hypertext that was complex in complex ways.
"Imagine a hypertext made up of complexes of nodes with link patterns demanding attention and rewarding rereading. It might be composed of just text or it might include the full panoply of hypermedia. What would be important would be the links. Not intensities linked but intensity in the links. Not different discourses linked but discourse in the links. (Isn't this what universities sometimes try to do?)
"Imagine a hypertext that was more than a reference work, and more than a series of fun surprises. Its patterns of linking would demand attention beyond the current node and the immediate horizon, like a seductive but difficult book that challenged and resisted the reader and asked to be re-read. A text that made new gestures and created new intellectual objects."
---
The Epigenetic Landscape
The epigenetic landscape is this. This.
The space traversed. With the search engine.
Searching for this file. The minutes and hours
spent this way. Searching for the teaching,
searching for the learning.
Days spent this way.
Looking for the information.
Looking for the way out.
This way. It's all downhill from here.
There at the bottom of the deepest
valley of this landscape.
And here - today
fitness will be had.
---
All Systems Go
Thinking about you and me and the various aggregates of our humanity: family, friends, community, city, state. Thinking about the relationship these aggregates have to us, as individual observers, and to each other, as aggregates.
Thinking how you, me, us and them are each systems. Changing systems--dynamic systems. Born, growing, decaying and dying systems. One system lasting only a short time, others longer. Some in balance, others not. Thinking about how we call the behavior of our 'own' internal system and the systems that we directly participate in--the system of the two of us, the system of each of us and our families and the system of each of us and our closest friends--psycho-dynamic. Thinking about how we call the behavior of the larger aggregates which we observe and/or participate in--socio-dynamic.
Is there a difference between the two?
Thinking about you and me (as systems) and our participation in progressively larger systems. Which system affords us the most control (or volition)? Which system affords us the most freedom?
Self-Maintenance
Thinking about the work (effort) that it takes to stay (our) entropy and about how all systems are inherently selfish, that is, how they are self conserving--entropy reducing. Thinking about our survival (as systems) and what that costs in terms of our manifestations of behavior, (the truth), ethics, laws. Thinking about the difference between being infested and infesting, between being the scene of contagion (infested with memes, micro-replicators) and being contagious (infesting as a macro-replicator), about universal parasitism, about the need to make our environment, "a good place to live."
Thinking about how miserable and contemptable the 'truth' can be. Thinking, on the other hand, that there can be "no blame" in enacting parasitism. (Only perhaps in being unconscious of it...)
Thinking about how our culture and our communication (our art) is as imperialistic as our nature, our fucking, our growing, our spreading ourselves outwards in order to survive; our system's attempts to make our environments (inside our bodies, outside our bodies) more comfortable, "a better place for our system to live." Thinking about how our communication with each other (and ourselves) consists of nothing more than a constant stream of proselytizing, coercive acts.
More Thinking
Thinking about Howard Bloom's book on group (or system) selection, The Lucifer Principle, and about the words of Alice's Red Queen (that is, about the *competitive* effort required of a system to simply self-maintain itself...)
"Well in our country," said Alice, still panting a little, "you'd generally get to somewhere else--if you ran very fast for a long time as we've been doing."

"A slow sort of country!" said the Queen. "Now, here, you see, it takes all the running you can do to keep in the same place. If you want to get to somewhere else, you must run at least twice as fast as that!"
Thinking about the therapeutic use of Clean Language and about the following passage from an essay on 'Reality' by the Chilean biologist Humberto Maturano. (subtitled: The Search for Objectivity or the Quest for a Compelling Argument.)
"Whenever we want to compel somebody else to do something according to our wishes, and we cannot or do not want to use brutal force, we offer what we claim is an objective rational argument. We do this under the implicit or explicit pretence that the other cannot refuse what our argument claims because its validity as such rests on its reference to the real. We also do so under the additional explicit or implicit claim that the real is universally and objectively valid because it is independent of what we do, and once it is indicated it cannot be denied. Indeed, we say that whoever does not yield to reason, that is, whoever does not yield to our rational arguments, is arbitrary, illogical or absurd, and we implicitly claim that we have a privileged access to the reality that makes our arguments objectively valid. Moreover, we also implicitly or explicitly claim that it is this privileged access to the real that allows us to make our rational arguments. However, is this attitude about reason and the rational rationally valid? Can we in fact claim that it is its connection with reality that gives reason the compelling power that we claim it has or should have? Or, conversely, does reason give us a partial or total access to the real so that we can claim for reason the compelling and universal validity that we pretend it has when we attempt to force somebody else with a rational argument?"
Afterword
And while I've been thinking, others have been dreaming...
---
If you asked me, I'd say the absolute saddest song in the world is 'Troubled Waters' the way Chan Marshall sings it on 'The Covers Record.'
And I'd suggest, if ever you be looking for a really moving experience, to wait for a cold, rainy day, to put track 3 on to loop, open a copy of W. S. Merwin's 'Selected Poems' to 'Words from a Totem Animal,' and read...
Breaking the Waves
Breaking waves can be terribly tricky, especially when you don't know where they are coming from or why. Waves caused by violent storms at close quarters -- such waves seem the most reasonable. Waves appearing out of nowhere when the rest of the atmosphere is perfectly calm don't seem reasonable at all. The more unexpected they are, the more disconcerting they are.
The unexpected wave makes you wonder about waves in general. Their ghastly efficiency, their continued presence in the sea (and it seems in the body), their message.
Wave, what do you want from me?
(A lot of people talk about surfing the net, surfing the web, but the metaphor doesn't seem apt to me. Where are the waves?)
---
ALAMUT.COM is artist owned and operated.
feedback@alamut.com
Page created: 30/4/00
Page last modified: 1/6/00